The qsig_gft configuration shortcut launches from Windows, the edition of QSIG_GFT emulator parameters. By default the contents is empty.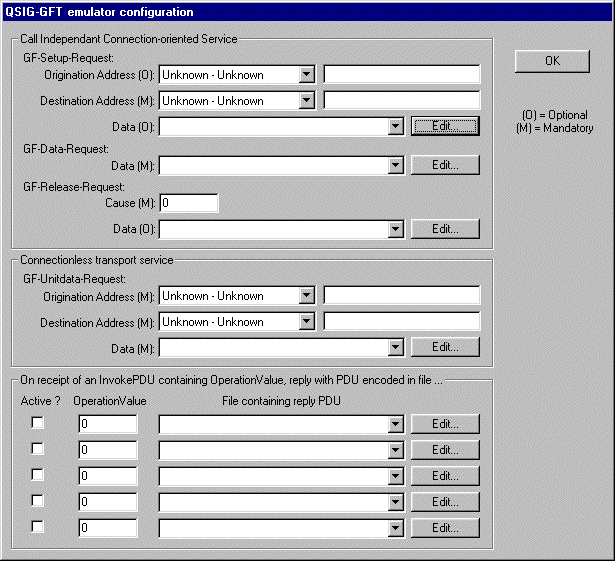 Before launching the profile, the user has to define the messages used for:
Call independent Connection oriented service
Connectionless transport service
Reply to a incoming PDU
The Call Independent Connection-oriented service allows to define the messages which are transmitted by manual command to the GFT panel when executing the profile
The reply configuration allows the user to define the ASN1 fields included in the reply PDU when a specific operation value is checked in the Received Invoke PDU.
The messages editor allows to enter types of fields:
Addresses and Causes values
Data fields of FACILITY IEs encoded in ASN1. The 'Edit' button allows to launch the BER-Encoder tool to create/modify the ASN1 content of Facility IE fields.
These ASN1 contents have to be saved in fields defined in Clarinet ASN1 files (.acb extension) in the current directory .
The Content of the Facility IE consists of two ASN1 fields:
the header for Network Facility Extensions
the ROSE field corresponding to the ASN1 sting edited with the BER encoder.
The header is automatically added by the Clarinet QSIG-GFT Emulator. Only the ROSE field has to be edited in the .acb file by using the BER Encoder for QSIG-GFT.