Getting Started with Clarinet-System
Successful Loading with a single Clarinet unit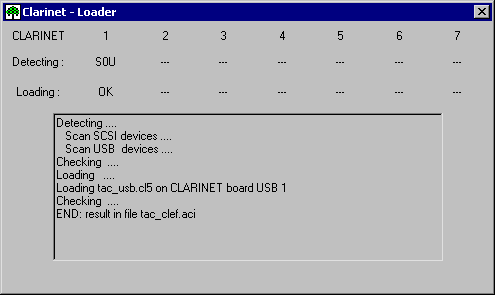 Under the Start/Programs of Windows, the Clarinet x.y group includes the Clarinet shortcut providing access to the Manager Dialog:
| | | | |
| --- | --- | --- | --- |
| | | | |
Clarinet Program
Clarinet is the input to access to Clarinet monitoring, simulation...
Clarinet BER Encoder allows to encode ASN1 fields according to Basic Encoding Rules and to include the resulting string as a content of the FACILITY Information Element of ISDN or QSIG protocol. Doc_systnote/Notinf_Berencoder.htm
Clarinet-Help provides access to the Home Page of Clarinet-Help in HTML version.
Clarinet-Init For allows advanced-users modifications of the initialisations of Clarinet applications. By default all the options are selected and filled with the regular values.
Clarinet-Loader is the duplication of the shortcut which is in the Starting Group of Windows. For Reloading the software in some conditions. See Loader dialog.
Read Me provides some additional information which could not be included in the Clarinet Help.

The Clarinet Manager Dialog provides access to the Clarinet Wizard. It allows to build a test by creating a Profile from a list of templates under New input:

At the end of the selection, the profile and the filter are saved in the directory selected under directory input (default is \Clarinet\Cladata).

Connecting the interface under test: using the connection specifications (see List_connections.htm)

The Clarinet Manager Dialog allows to launch a test by selecting a Profile from a list under Run input. The Clarinet Manager opens a new Dialog-box, the Manager Command box, providing access to the manual commands of the Manager:
When the profile is under execution, the cursor set on the windows of the Clarinet-manager displays an animated symbol of the running

The Manager opens simultaneously a second windows for the Clarinet Protocol Event-Editor: the title displays the event-file name (*.ace) and the filter file name (*.acf).

The execution of the profile is stopped by clicking on

The Manager closes simultaneously the second windows of the Clarinet Protocol Event-Editor if the Event-Editor scrolling is ON.

The Manager saves automatically the events in the event-file. When the test is finished, the events can be edited off-line by use of Clarinet Event-Editor.The panel Edit Protocol Event file accessed by Events/Open Protocol or

allows to specify the file names.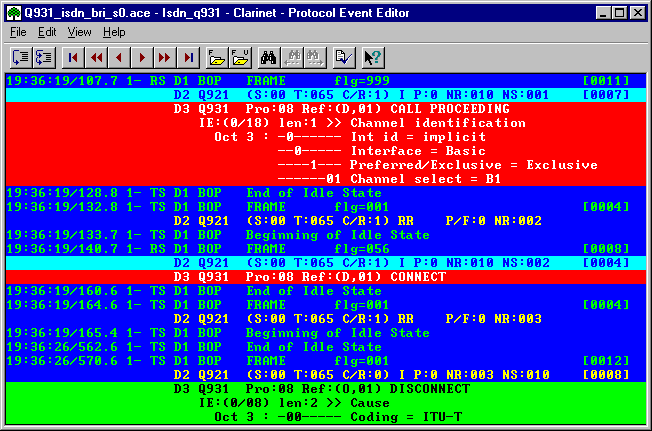 The toolbar or navigation keys provides the way to move in the event-file.
The edition is stopped by the File/Exit command.

The Clarinet Help is provided under HTML format. The user should use Internet explorer to display the help pages about the Clarinet-system.